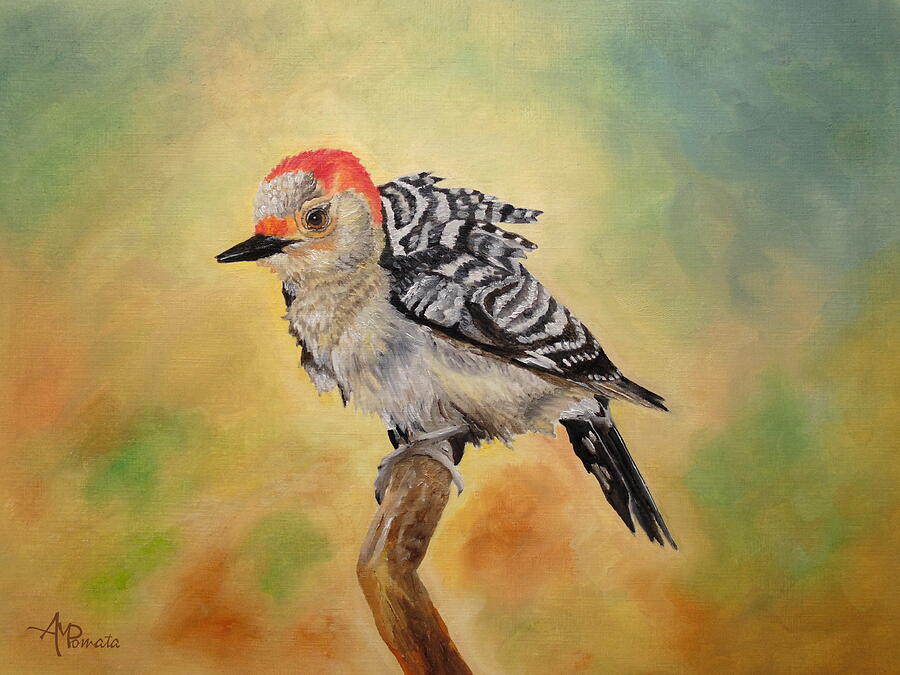 Buy the Original Painting
Dimensions
12.600 x 9.500 x 0.016 inches
This original painting is currently for sale. At the present time, originals are not offered for sale through the Angeles M Pomata - Artist Website secure checkout system. Please contact the artist directly to inquire about purchasing this original.
Click here to contact the artist.
Medium
Painting - Oil On Paper
Description
This painting is based on the original photograph 'Female Juvenile Red-Bellied Woodpecker Fluffing' by Cindy Treger, whose express consent has been requested to use as a reference

The original photo can be found here: https://fineartamerica.com/featured/red-bellied-woodpecker-showing-her-red-belly-cindy-treger.html

The Red-bellied Woodpecker is a medium-sized Woodpecker in the Picidae family. All red-bellied woodpeckers show a black and white barred back, white upper tail coverts, greyish white undersides, black chevrons on the lower flanks and below the tail coverts, and barred central tail feathers.

Despite the name, the red on the belly is often not visible in the field, and the most prominent red part of its plumage is on the head. That is why it is often mistaken for the red-haired woodpecker, a somewhat rarer species that are mostly black on the back with large white spots on the wings. Adult males have a red cap that goes from beak to nape; females have a red patch on the nape of the neck and one above the beak.

It breeds primarily in the eastern United States but has extended its range north to Canada. Red-bellied woodpeckers depend on dead trees for nesting. They also use tree crevices and fence posts to store food for later in the year, a habit they share with other woodpeckers of their genus.

Although they sometimes take over the nest of other birds, they are more often the victims of the aggressive European Starling. Up to half of all red-bellied woodpecker nests in some areas are invaded by starlings.

Red-bellied woodpeckers are noisy birds. your typical call sounds like a churr-churr-churr or thrraa-thrraa-thrraa with an alternate sound br-r-r-r-t. As a curiosity, these birds, more frequently males but also females, often "drum" to attract their mates, hitting hollow trees.
Statistics
Viewed 2,654 Times - Last Visitor from New York, NY on 10/02/2023 at 3:04 PM