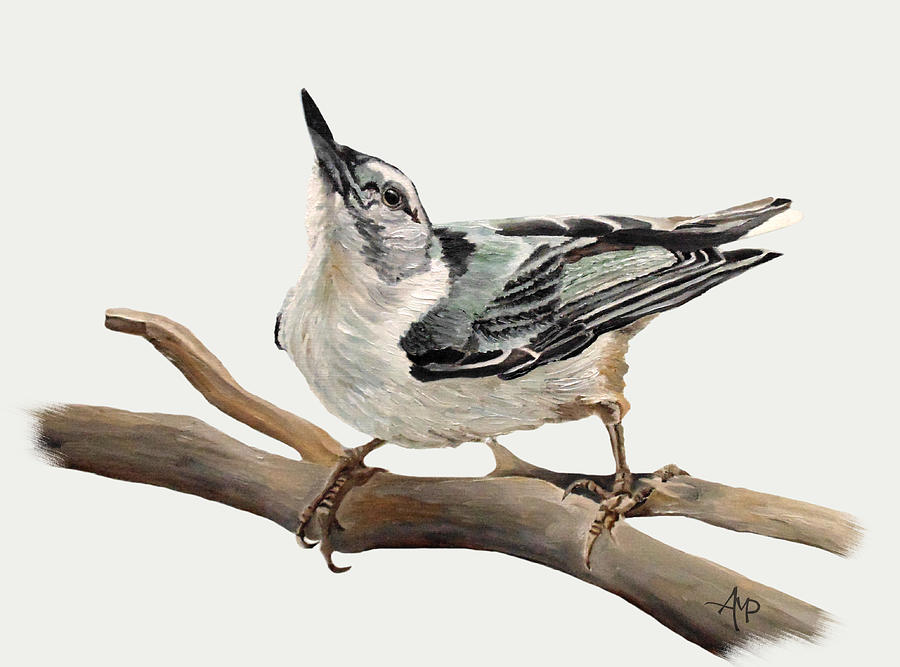 Title
White-breasted Nuthatch
Medium
Painting - Oil On Canvas
Description
This painting is based on the original photograph 'Looking Up - White-breasted Nuthatch', by Cindy Treger, whose express consent has been requested to use it as a reference.

The white-breasted nuthatch (Sitta carolinensis) is a small passerine songbird of the nuthatch family, albeit the largest of the North American nuthatches within its genus, Sitta. It is a common resident of deciduous forests and usually breeding across much of temperate North America.

The name "nuthatch" is presumably derived from the word 'nuthack', which refers to its tendency to wedge seeds into crevices and hack them open using the bill. This cute bird has a black crown and nape that contrast with a white face and breast, with a large head, short tail, short wings, a powerful bill, and strong feet.

They tend not to be very friendly with their fellow nuthatches —except while mating: they are thought to be monogamous— but they can be taught to eat out of your hand with a little patience.

Uploaded
December 12th, 2020
Statistics
Viewed 2,428 Times - Last Visitor from New York, NY on 10/04/2023 at 3:27 PM