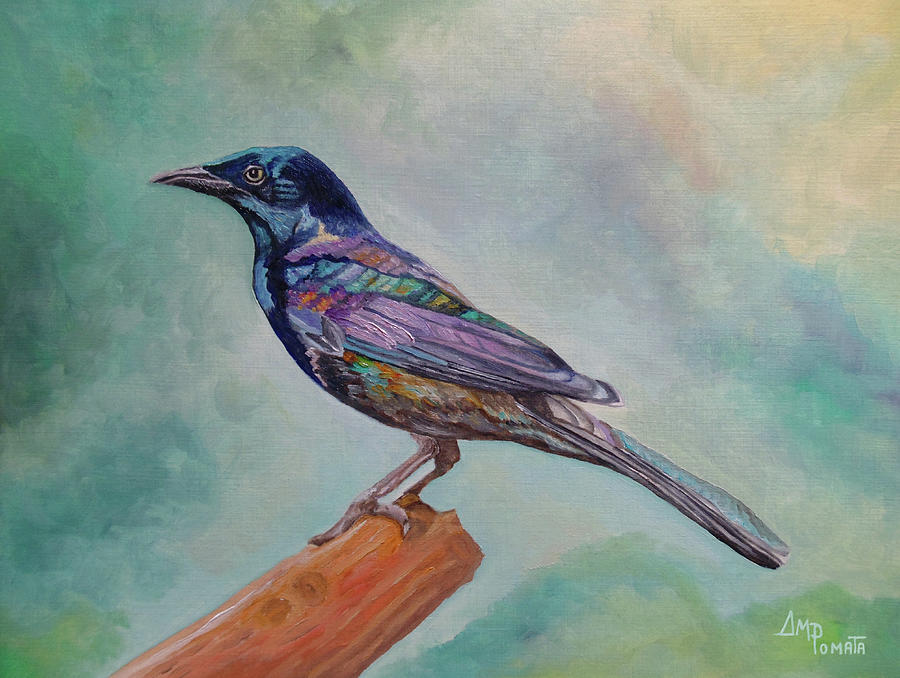 Dimensions
12.600 x 9.500 x 0.016 inches
This piece has been already sold. Please feel free to contact the artist directly regarding this or other pieces.
Click here to contact the artist.
Title
Dressed In Lights Common Grackle
Medium
Painting - Oil On Paper
Description
This painting is based on the original photograph 'Iridescent Common Grackle', by Cindy Treger, whose express consent has been requested to use it as a reference.

The original photo can be found here: https://fineartamerica.com/featured/iridescent-common-grackle-cindy-treger.html

Widespread and very common, the grackle (Quiscalus quiscula) is a large bird found in large numbers throughout much of North America. Adults often have an iridescent appearance on their heads, especially males. Jackdaws are found in much of North America east of the Rocky Mountains, although in recent decades common grackles have expanded their range westward.

Long, fierce, bright-looking blackbird, slightly larger than a jay; smaller, proportionately longer than a tail and shorter than a crow's wings. Yellow eyes and long, heavy bill (compared to the red-winged blackbird). Often aggregates with other dark blackbirds, though of different species, in winter. Feeds in fields, brush, and open forests.

Grackles often nest in small colonies, and several males may perch on the tops of adjacent trees to sing their shrill, screeching song. Large flocks are often observed at night, heading for the main common roosts, especially from late summer through winter. When these same large flocks fly over the fields, they are formidable, with numbers in the tens of thousands, and their effect on the crops is terrible.

The typical song, emitted by both males and females, is a guttural call accompanied by sharp, clear whistles. It lasts less than a second and is often described as a rustling door sound. While singing, males puff out their body feathers and extend their tails.

Uploaded
August 4th, 2022
Statistics
Viewed 2,461 Times - Last Visitor from New York, NY on 12/07/2023 at 5:02 PM